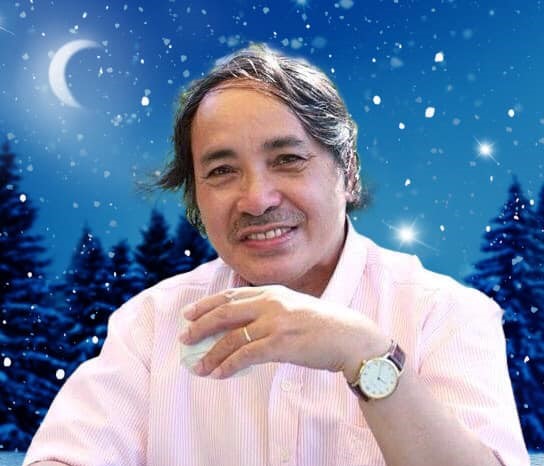 Poet Nguyen Hung was born in 1955 in Nghe An. He graduated and earned a doctorate in water construction in Russia. He is currently a member of the Vietnam Writers Association, a member of the Executive Committee of the Ho Chi Minh City Writers Association, a permanent member of the website of the Ho Chi Minh City Writers Association, HCMC. He has composed and published 6 poetry collections including "The Wakeful Sail", "Waves not from the Sea", "Flying Towards the Storm", "Footprints of Luc Bat", "100 Puzzles of Writers", "108 Verses of Poetry". More than 100 poems of Poet Nguyen Hung had been composed into songs and being performed and broadcasted widely on central and local television stations.

FOR THE COUNTRY RIVER
We were born from a river
It's long and wide but the side boat is small
Bullets and bombs plowed away childhood
When it's over we are in different directions
When we meet, the river is not the same
The old wharf is now memory
We are by our side, filled with river feelings
When waiting for father's boat by the bank
Long years of living in the distance
Mother river running through our sleep
Wherever it flows we are full of longing
Love the oars moving back and front
The country river filled with past memories
Is the place to stop by late afternoon
Please kneel down to embrace the waves
Keep to yourself, the childhood to hold
Oh river, sweet melody of boat movement
Oh river, salty tune of lullaby
Wishing to bathe in the country river
In vast greenness, a sail to remember
***
I DON'T…
It happened to find out something
It stays there in our heart and mind
There are stories from many years ago
Try to forget, but it keeps coming back
Please don't talk about lover of the past
Don't tell me what they had said before
If I ask, please say no, not thinking of
Or put on a smile and ignore it then
I wish we met each other not that late
So not feeling disappointed and upset
I wish my heart is not that emotional
By those beauties hidden and shown in poetry
**
PASSING FLOWER MARKING
Many times in a day passing flower market
I ignore by not stopping once
I'm worried to see colours of last year
Getting emotional at season changing
You are away, days and months are long
Flowers blooming but the smile has withered
The joys, no longer want to hold back
Thinking of those days without each other
Flowers are pretty but I'm not to look
As I may see you, those days we took
The flower petals would be on fire
Burning the scar, spring comes to mind
***
LOVE STAYS YOUNG
The grains of three thousand years old
Still sprouting with fresh young leaves
Is there anyone explain to me
What makes the grain eternally alive?
The seeds left by our ancestors
Creating doubt, interest and wonder
The seeds stir a bit surprise to all
Their wonderful liveliness only in dreams
The seeds of three thousand years old
Still sprouting with fresh green leaves
And with love stays forever young
You don't need to worry dying in me
***
TERRORISM
Those uunscrupulous fanatics
Terrorizing civilians
By hijacker
By suicide bombing
Great Powerful nations
Terrorizing neighbourhood
Threatening the world that already not at peace
With a nuclear bomb
By aircraft carrier
By long – range missiles
Politicians
Before every election
Terrorize each other
With a bunch of old emails
With tapes showing the opponent's heel
Those wordy characters
Terrorize each other
With sarcasm, harsh words
More evil than suicide bombing
More dangerous than a nuclear bomb
Dirtier than tapes recording behind one's back
NGUYEN HUNG